CEO's Letter
Mitsuwa.co.ltd were launched at 1984. That start was sales for material of synthetic resin. Established Mitsuwa holdings and have developed and continued our business, not only material also plastic.

Our group held textile related company other than plastic related company. To make our management efficient and pursue the synergy effectiveness, combined group companies together with HOKUTO.co.ltd kept its business. Mitsuwa.co.ltd started.

May feel our portfolio interesting, dealing with resin, resin products, textile and clothes. This various fields activity is our strategy to stabilize and develop our business continuously.

We'll keep our effort to supply high quality solution to our customers, having environmental consciousness. Move forward as a company loved by customers and community.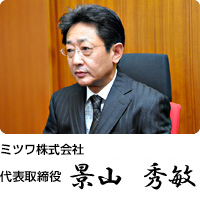 Corporate Policy
Through totally fare and clear activities, Mitsuwa observes law and becomes reliable company by customers. On the basis of that trust, development and enhance our corporate value with community. Enrich the peaceful mind of our employee and their family.
Employee Policy
Reliability
Keep thanks and passion to our business partners. Become reliable person of business partner.
Harmony
Develop our brain and mind to string and flexible. Respect human harmony and contribute company development.
Will
Freedom is rule. Observe rules. Challenge to "change" for existing things.
Achievement
Set clear and high level mission. Keep strong will to achieve it.
Success
Thoroughly be fare and pursue better future for whole group companies.